This recipe is from Andrea Bemis at 'Dishing up the dirt' blog. Andrea has so many other tasty and healthy recipes. If you try a few others, please share with us.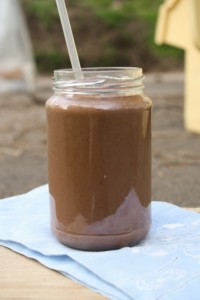 2 servings
Ingredients
1 ripe banana
1 1/2 TBS Sunflower butter
1 1/2 TBS organic cocoa powder
1 1/2 TBS pure maple Syrup
1 large date, pitted and diced
1 TBS Flax Seeds
1 cup spinach
1 tsp Cinnamon
dash of nutmeg
1 cup of water
a few ice cubes
Directions:
Place everything in a blender and blend away. Enjoy!
Lappolis Notes: I also add a handful of mint, basil, cilantro or parsley to give it an extra fresh taste.
http://dishingupthedirt.com/recipes/smoothies/chocolate-sunbutter-green-smoothie/