2015
I channeled my creative energies into different things this last year. I found myself having creative inspirations, but holding back and being skeptical in whether to express it or not. Sometimes, I will think of the cost, sometimes the time.
Birthday Party
I had planned a great super hero birthday party for my boys. Someone was able to decorate the whole space with the super hero theme. I got costumes for all the kids and they took that home as part of their gifts. I had gifts for the adults as well. The kids had their own section with kid size tables and chairs and hostesses to manage their activities, so the parents could actually relax.
All in all, it was a success and everyone had fun, except for me. Initially I worried I was doing too much, then doing too little, then not getting enough food, then worried about the budget. It all worked out, and nothing was too much or too little, and the budget was reasonable and on target, but I was still so stressed out because of the drama I let play in my head. I finally relaxed and accepted that things were going well, towards the end of the party.
This slideshow requires JavaScript.
Baby Shower
I really went all out for my sister's baby shower. It was a collective effort between me and some friends. I did a little better with this and went for my ideas with less trepidation, eventually. But, I still worried about the budget, whether people will help out, whether what I saw in my mind would actually work… Eventually, I let go of my worries and had some fun. All the ideas came together and it was a beautiful event.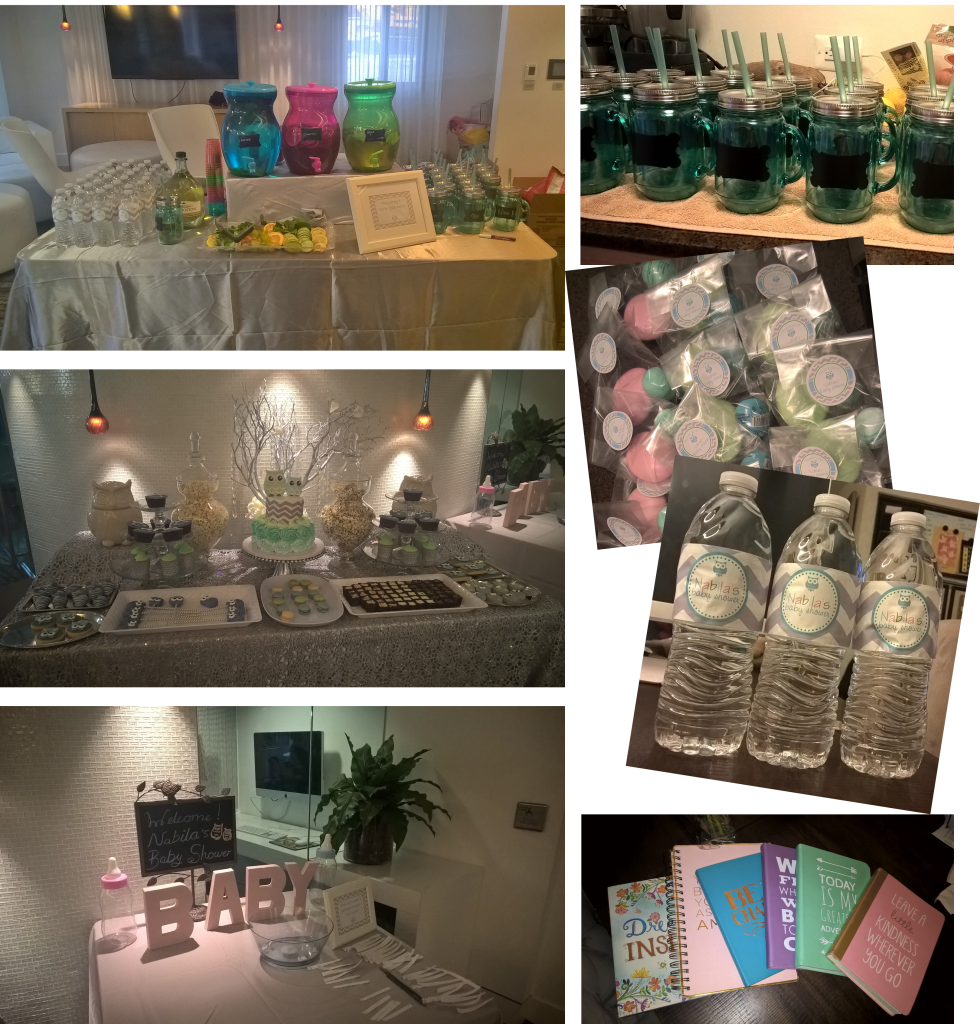 Xmas Tree
Last year, our Xmas tree was just one faux tree, a string of lights and a box of balls from Target. This year, I decided to be a little more creative. I went back and forth to stores, puts stuff up on the tree, took them all down, put more up, took more down, got my kids involved, handmade somethings, second guessed myself, stressed myself out. By the time I was done, I didn't even look at the tree.
About 2 weeks later, I was walking past the tree at night and I finally really saw the tree. It was beautiful.
This slideshow requires JavaScript.
Xmas Celebrations
This was going to be our families first Xmas at home, my first Xmas ever in my home since I got to America. Christmas is normally when I travel out of the country. When I've been pregnant and didn't want to leave the country, I spent the holidays in NYC.
I wanted to make this fun so I don't miss my year end jet setting. I was to prep bread pudding the night before, hot chocolate in the morning. I was going to pick up Christmas pudding and crackers (as in the pop boxes). Simmer Xmas spices on the stove or diffuser, so the whole house smells Christmassy, play Xmas music all day and put on Xmas movies for the kids in the play area…
As I started to let my mind wonder, I started to panic… Am I doing too much, will it be fun, should I invite others, am I spending too much…
Argh!
Enough already!!! I keep torturing myself with these thoughts and things work out anyways. So, why let them in in the first place, why let these thoughts drain the fun out.
All the other creative endeavors were relatively successful. But I remember how painful and stressful they were to realize, not that the process itself was stressful, it was the agony I placed on myself deciding whether to go with a creative spark or not. "Should I, or shouldn't I?", "Am I doing too much?", "Is this too expensive?", "Will it work?", "Arghhh!"
I had been taking the joy out of creative expression by beating myself up with questions and self-doubt. So, at the end of the day, these events that could have brought me so much joy were stressful. I remember finishing decorating the Xmas tree and not even caring at that point, just wanted to be done.
Dec 2015, 2016 – New decision
When I have a creative inspiration, I'm just going to go for it, lean into it. The inspiration better come with the resources to execute it. I realized that for all these events, I still got to do all the things I wanted to do, so why not leave out the worry from the beginning and enjoy the process.
Starting now (and in 2016), I'm going to let my creative flag fly.
I'm going to let my creative flag fly
…
This is where I tell everyone to let their creative flags fly too, but I'm not sure. You'll have to come to that conclusion on your own because, to me, it's going to be one big experiment.
Next Xmas
I already have an idea for our next Christmas tree. My plan is to make it a touchable edible tree. We'll use felt ornaments, that cannot break and make the tree edible with hanging gingerbread cookies and candy cane, maybe even popcorn garland. I'll buy the ornaments right after the holidays so they'll be on sale.
So, when I went to the store right after Christmas and picked up what felt like 7000 ornaments, I started to doubt myself again, and then called a friend for encouragement. Then I remembered my commitment to lean into my creative inspiration, and all my doubts went away.
FYI: The 7000 ornaments cost about $35. Not bad.
These are a few highlights from 2015 inspirations:
Save