Why:
I made lotion for three reasons:
First, this winter has been so harsh, a lot of the lotions my family and I were using just wasn't cutting it. The ones I had tried were leaving my skin ashy and cracked before midday.
Secondly, I am pregnant and wanted something really effective to help prevent stretch marks; I had more than my fair share from the last time around. A friend had told me she rubbed raw shea-butter on her belly all through her pregnancy and that had really worked for her. In anticipation of trying out her solution, I had asked my mum to bring me raw shea-butter and coconut oil from Nigeria the last time she came around.
Thirdly, I always thought to myself, "How hard can making lotion be? I can probably save money and come up with something effective and all natural. What could be better?"
Process:
I had tried using the raw shea-butter on its own, but it is very hard to apply. You have to work it in your hands a little bit to warm it up and even then, it's hard to really give your body a rub down without expending serious energy. Inspired by the spreadable body butters in stores like Body shop, I decided I was going to whip it to get a texture that was easier to spread.
Ingredients:
1. Shea butter – 1 cup
It is highly moisturizing and most be good for my skin since it is wildly available where I grew up.
2. Fractionated coconut oil / coconut oil / olive oil – 1/2 cup for belly butter, 3/4-1 cup for body lotion
The coconut oil my mum brought was very, very moisturizing. Also, it was liquid at room temperature while standard store bought coconut oils are solid at room temperature. A friend did some research and found out that it was "Fractionated coconut oil". I didn't have a lot of it, so I supplemented with olive oil. I wanted to use oils that weren't liquid at room temperature to help make the final product easier to apply.
3. Vitamin E – 1 tbsp. or more
I bought the highest quality vitamin E oil I could afford. It helps heal and smoothen out skin.
4. Lavender oil, or any other fragrances – As much as you like
To make the lotion smell nicer.
Direction:
Melt shea-butter in double boiler, till you can see no solid matter
Add coconut/olive oil and stir. Give it time to get to the same temperature as the shea butter
Let it cool. I put the mixture in the fridge for a little bit, till parts of it started turning solid.
Whip it in a standing or with a hand mixer for about 5-7 minutes
Add Vitamin E oil and lavender oil and whip for another 3-5 minutes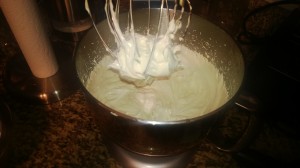 Results: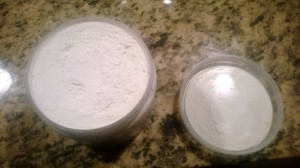 The final product felt so good to the touch. It was easy to spread and very, very moisturizing. But once it fully cooled, it was still not as easy to spread as I would like, but really ideal for rubbing on the belly. I would have added more oils, but wanted the really high shea-butter content.
I've been using it now on my belly, body, face and even scalp and it's been really, really moisturizing. The winter ashyness is now history. My face is looking plumper, more moisturized and smoother. The best result for me is that it seems to be diminishing the look of my current stretch marks. My husband and son have been using it as well with good moisturizing results.
I gave samples to two friends of mine to see how it would work for them. One friend used it all over her body and called it "thermal wear", lol. The other, who spends a lot on lotions and hand creams (no kidding, she can shell out $100+ for lotion) loved it so much, she wants to make her own batch and do her own experiments.
Notes:
I've been looking into ways to make it more spreadable and it seems like adding beeswax, more oils, glycerin and also coco-butter are 4 approaches to consider. If I were making just lotion for the body, I'll try adding more oils & glycerin.
If you have other face ailments, like acne, you may still want to use your specialty face products and maybe use this as a night cream or in addition.
Next, I will be handing some over to a fellow mum who just had her second baby and needs help dealing with her belly. She is of a different complexion and has slightly different pregnancy effects to contend with, so I'm curious to seeing how it works for her.