At the end of the last year, I wrote a piece about keeping our eyes on our goals for the new year,
Where you look, Your body follows
. Staying true to that, I wrote up a set of goals for the year and kept it in OneNote (Microsoft Office) , where I reviewed them frequently.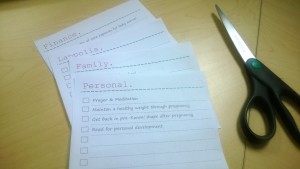 Sometimes I reviewed them weekly, sometimes monthly. I also tweaked them a lot to get them more specific or to adjust to some new life circumstances. At some point I printed them, but didn't post them up anywhere.
The result was that, I accomplished a lot more of my goals than I ever had. It was great to have some guide for the year, something to guard my thoughts and to look at when I felt a loss focus or when I was getting confused about my day-to-day life. It kept my eye on the price and it flat-out felt good to be accomplishing some things I felt were important and not just have another year go by with nothing to show for it.
This is a quick picture of where I started and where I ended in the year. The lines highlighted gray were the goals I accomplished, those highlighted blue were the ones I made progress on, and the ones highlighted red were the ones I didn't succeed at:

Crank it Up
So, this year I'm going to take it up a notch. I'll
Write out goals

I'm a little better at making them more actionable.
They could be SMART goals but those don't always work for me

Finding and printing inspirations for the goals.

Finding pictures, words to live by and anything inspirational
For my body, I'm posting up a picture of how I looked before pregnancy
For my finances, I'm posting up a check for the amount I want in my account

Posting these in my bathroom

My bathroom is somewhere I can see the goals everyday
What space will work for you?
It will be a more entrenched part of my life, keeping me more focused and more goal oriented, daily. I have also decided to extend this a little and write-up some shared family goals with my spouse.
I'll advice you guys to do the same. Write up some goals and keep them in a place where you can see them and adjust them. I have attached one of the templates I used.
Enjoy the journey and let us know where it takes you.
Happy New Year!